Oil painting above. 48" x 64" Living
below another original photo/design image available in series.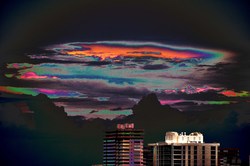 ---
Below, more graphic design/original photography. I will create this kind of design on your photos, contact for more info.
Special portrait photography design, just above and below. I will create POP art images of your people from provided photographs. contact for more info: annedeon10@gmail.com
Photography/design images in series. contact for more info. Available on Clear acrylic.
Available one of a kind, hand enhanced, numbered, limited edition, signed prints on canvas of Anne Deon's Statue of Liberty painting as seen on CBS TV sitcom: The King of Queens, and exhibited at the Coral Springs Museum of Art in Retrospective Exhibiton of Deon's paintings. Shown below are some of the limited prints as well as the cover of the Set Decorator's Society of America Magazine which features Deon's Liberty on it's 2001 cover commemorating 9/11